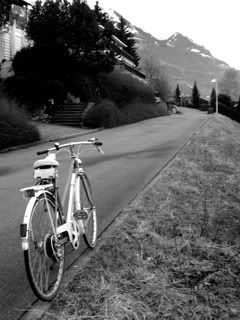 "I want to ride my bicycle
I want to ride my bike
I want to ride my bicycle
I want to ride it where I like"
-Queen-

Those little moments that make me laugh out loud, shreik, and speak random German phrases trying to express my joy.

One of my favourite things to do.. is go home from theatre.

I tend to go home with two girls, Leah and Jana, who are both some 2 or 3 years younger than me.. which is perfect.
It varies each time we go home.
Today I had no bike and was wary to walk home as I had already walked the entire afternoon and suffered through two hours of "movement" and interpretive dancing and slinking with Elda.

I had a headache.
I was tired.
I wanted to go home.

And so we did the thing that comes natural.. I rode on their bikes, with them.... on the bike.

If you don`t have bikes as your main source of transportation, you would be completely clueless as to how many ways you can ride a bike with two people on it.

We tried it three, or four, ways.
Me behind Jana, on the same sadle. Sitting half on it and half in her basket. After a couple minutes, however, this proved to not be the best option.
Me on the bike pedaling and Leah behind on the rack. See in this photo the basket on the back? Remove the basket and bang! you have another seat.


The downside is the entire time you are on the back, you must must must keep your legs out.. with no support. So it is quite tiring.. but on you go! Just hold on to the person in front when you go over the bumps.

Eventually.. we changed positions. I took the back, Leah the front, and on we go. She was so determined to get me up that hill! Even when I offered to walk. We were only a 2 minutes walk from where they would put me down, so I got off.

Jana removed her basket to prepare for me.. I was ready to walk and ran off with the basket and blinking light. And then, Leah came, offered me a ride, and I hopped on and we rode off with Jana screaming for her basket.

We got to my rode, hopped off... and I stole Jana`s bicycle, rode through a parking lot, climbed up some stairs with the bike, and came down the hill to see them again.
The entire time was, excuse the horrible overused phrase coming up, full of laughter. It was though! Laughter, screams, more laughing. And singing. And whatever.
And I was thinking, do I seriously belong here? I do! I feel like this is my home. And that made me happy. Happy as ever. And I thanked them a bajillion times and text messages followed.

[eliane romy maggie]
I belong.
I am so thankful.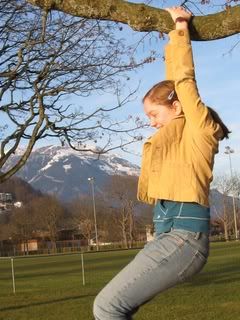 [i like life]