Here it is! I have officially been accepted. And they officially have a spot for me in....
---
Switzerland

---
Cool huh?

But I don't have to go there. Nope. They're currently still looking for some other places for me to go (such as Sweden). But it's good to know I have a place to go. I have three families lined up for me in Switzerland that I could live with.

But the question is. Is this where I want to go? Should I wait?

I have one to two weeks to make my decision. Time to do some research...

---
Switzerland:

It's here: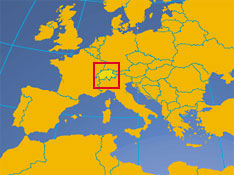 They have cool photo frames (old blog).

Did you know that...
They have the highest chocolate consumption in the world! It's around 22 lbs (10 kg) per person!


They have the 4th highest cheese consumption too at 20.6 kg per capita!


They speak German (64%), Italian (6.5%), French (20.4%), and some Ramanish (less than 1%)

With ninja stuff like that, I think I'd like it there.

---
If anyone knows anything about Switzerland (besides the fact that it's cold, it costs a lot of money to live there, or that they tuck their pants into their socks) feel free to tell me