Just telling you what I've been consuming lately during the hottest days of the year...
Pay attention.
Heed my advice.

Head out.

Treat yourself right.
You deserve it.

It's a good thing.

---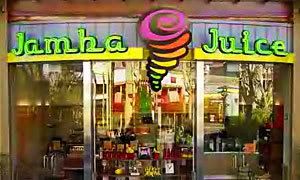 First, I love Jamba Juice. It's like a lifeline. Couldn't live without that stuff and don't know how I'll survive without it next year.
Today me and mi madre went out to Jamba Juice.
What to get?
I like Tea so I got the....

I don't know how to describe it. It's amazing with so many flavours in one large cup. I guess they say it best.
Dazzle your palette and fuel your active body with this zesty blend of red tea, raspberry juice, strawberries, sorbet, frozen yogurt, soymilk, raspberries and ice. The only thing you have to lose with this energizing mix of fresh berries and rich source of vitamin C is your mid-day doldrums.
So true.
My pallette has been dazzled :P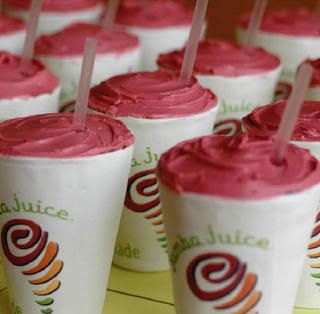 ---
And what's Seattle famous for?

What can be found multipul times in every city in the area.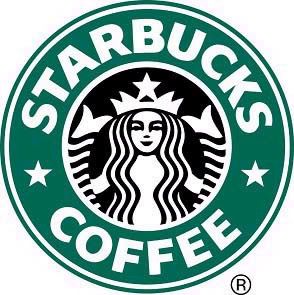 You gotta love that place. Seriously. If you don't like it. Get away from my blog. Right now. Shoo! Yes. I mean it. You don't even have to like coffee to like Starbucks.
I myself am not a huge coffee fan... but I love mostly everything else that place serves.
Such as the drink I got the other day when it was very hot and I was tired in Seattle.
The perfect pick-me-up.
Raspberry Mocha Frappuccino® Blended Coffee


There it is. Packed with flavour. A subtle but very noticeable (if that's possible) taste of raspberry in each sip.

And raspberries are refreshing.

So this is refreshing.

A delicious combination of juicy raspberries,

chocolate and the finest Latin American coffees,

blended with ice, topped with whipped cream and raspberry drizzle.


As it said. It is delicious. So I advise heading out to your local Starbucks and grab one of these. It really is good.

---