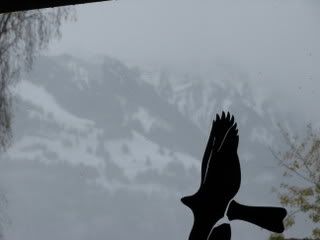 Today, I was translating a paper, minding my own business when....

Teacher: Maggie
Maggie: *translates paper happily*
Teacher: Maggie
Maggie: AIDS!?

(note: I do pay attention in class. But they were reading out loud the same paper and I, well, understand at a slower pace)


I guess I misheard him.

Anyways... he was just smiling about something. Sort of a smile? And I looked, and my class was looking at me.

I thought they were talking about America again.

Then he said that magic word.

"Schnee"

A HUGE grin spread over my face, I looked out... and just sort of stared.

Then I went to the window, opened it (it had already been open half the morning, one more minute woldn`t hurt) and stuck my hand out. Staring. Smiling like an idiot... itwas just too excited.

Snow!

And it stopped.

Then in my special German class, we got more snow! More than ever.

Huge flakes!

I was soo happy.

And it stopped before I could touch it.

Grr.

On the entire bike ride home, I blasted Christmas songs from my pocket.

The problem with me and snow is that:

Snow = Christmas

No doubt about it.

You can`t have it snow till around Christmas time... or Valentines day.

Anyways.. all of a sudden my entire mind is thinking about Christmas and singing the songs.

This could be a long two months...