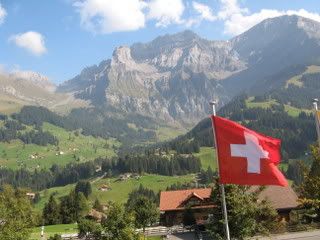 I had my first church weekend... I loved it.
Simple and full of fellowship with other Christians.
The Buchers, my neighbors, were kind enough to drive me.
They are like the equivilant of the Lynches... well, not even close, but they are the closest we have here.
I woke up late and little time to get ready.
And when I got in their car, they promised me an English morning.
And I loved it.
They went to England for 5 years, and are hence near fluent in the language, and went their for Christian purposes and agree with the CCB teachings.
God is so good.
Anyways, I will have to keep this brief, as I feel like sleeping.
We drove up and arrived early.
And there was this random wildish pig, tiny black thing, just hanging around in the parking lot. Defnitly a cool thing. I petted it a couple times.
The weekend, we went hiking a bit and we ate.
And where we ate, there was a fire.
I roatsted to big sausages.. they were so good.
And I had good bread.
And we made snake bread... which is where you wrap the dough around a stick and roast it till it is perfect. And yes, it does indeed get perfect.
And we hiked to an amazing waterfall and walked around.
And walked through a field where there were cows and one of hte guys from the church stood in the middle of the field playing the accordian.
And we used a outhouse.. and it was quite clean... but stinken.
We went to the hotel after that and I loved my room. It was simple, but the view was amazing.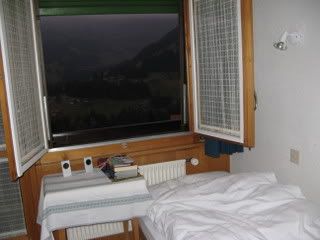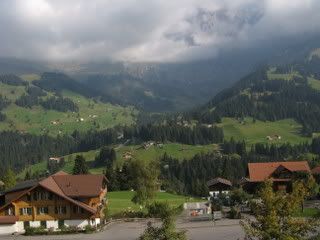 [myview]
I love my life.
Anyways... the food at the hotel was fantastic. Something with pasta balls.. I have no idea. The desert was rather disgusting though and I had to stomach my way through it. There was egg in the soup.
That night we had worship and games.
The games varied from eating a giant choclate ball loaded with marshmallow cremem in it and wrapped with no hands (I wasn`t half bad at that) to singing.
My favourite was where they had a woman from each team teach the man to knit one row. It was hilaroius seeing the men there with their needles and concentrating so hard.
And most of the kids slep in a bomb sheleter.
We hung out in the hotel for a while.
The elevator is amazing. It is like just a normal door, and it isn`t all that safe, yet it is. And it is the tiniest elevator I have ever been in... and the quickest too.
The next day we went to the Salvation Army church.. that was soo cool!
They have uniforms and a full brass band like no other. I really enjoyed mysefl.
But had to work so hard to stay awake, literally, if my eyes were open, I could not focus them, no matter how hard I tried.. and trust me, I tried.
And then most of the church went hiking, but some of us youth stayed home.
We went to a park and played volley ball and went on a crazy carrosell swing and just hung out.. relaxing, fellowship.. it really was a blast.
And then we went home.
We went on a super long bridge, by foot, cause it was soo cool. Dad, you would have loved it.
And that was my weekend.