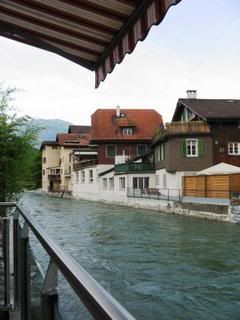 I went to church again.
This time it was in the evening at the beach.. it was a BBQ and Baptism!
I love seeing people get baptised... it makes me soo happy.
And I loved it.
Just talking to people... meeting people.
Sabiene picked me up right in front of Emmanuel`s house.. and Mr. Peter!
That whole family is quite epic.
I didn`t bring any food... but you could easily compare this family to the Lynches. That speaks volumes about them doesn`t it?
Well.. they had plenty plenty to feed me a few other people. I feel more comfortable trying out my German here.
Anyways, I was disapointed to find that there is only youth group once a week... and I felt like I would die with nothing going on Friday night.
And on the train the next day, I found Madlen! She`s an epic person who I can safely say is one of my first Swiss friends.
(a ladybug baloon just went pasty my window and is flying over the lake)
Anyways, we arranged to get together today.. this Friday, at 6:00. Eveline may come and Madlen invited other people. We get to meet at the church. I am SO excited! Who knows how it will go? Even if it is just Madlen and I, I`m sure we`ll have a great time. She takes the train from Giswil to Lucern everyday, but only on Mondays and Tuesday does she ride the same time as me.
Gotta love life...