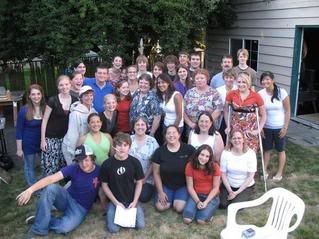 Party... yes, Maggie likes to go to parties... or perhaps I ought to use party as a verb.
It only became a verb in the late 60's.
So perhaps I shall just stick to the pre-1960's way...
I enjoy

going

to parties.


I enjoy

hosting

parties.


Oh what a lot of fun, a party! a party!


My oh my, shall we have some crumpets at the party dear mumsy?
Anyways, I wanted to see everyone before I left.
WAIT, not wanted to... I NEEDED to see everyone.
And still I can't.
But anways, on Tuesday, I had a load of people come over.
And they were wonderful.
Pretty much the people who I wanted to see before I left came... and if they didn't come, well. Um. Nevermind. But it was amazing. I've never seen people from all my walks of life interact like that before. I had
school friends
with
square dancers
with
church friends
with
family friends
with my
family
. All walks of life!
And it was just a grand old time.

I got lots of orange stuff.. it made me oh so happy.
And thank goodness I didn't buy TOO much underwear and socks... my friends took care of that. Specifically Jenny, Callie, Ashley, Lorilee, and Elisa. And one pair of underwear came presigned.. it was amazingly orange and striped and I love it. With green sharpie. So I have to set it with an iron tomarrow. I think I shall wear it on the airplane. I'm sure you wanted to know that.
SOCKS!
I'm in love!
Gracias to all who gave me socks...
One group covered the realm of orange socks... they were amazing... AHHHHH!
Callie, Ashley, and Lorilee - thanks be to you!
And Elisa covered the fuzzy and yummy smelling sock arena.. YUM!
I don't think I've ever been so happy in my life.
But saying good-bye... is it all that hard? Yes, and no. When you're surrounded by your friends, it's hard to picture not seeing them for 11 months. I didn't really think about it. And I was in such a good mood that crying didn't really seem like an option. But it's hard to let go. I mean, the final good bye. Few people know what I'm talking about. I mean college kids, they come home for Christmas, no biggy.. but I won't be coming home. When I say I'm gone for a year, I mean it. No breaks. And that makes everything 2.46 times harder.
To all of you who came, this is for you. Thank you so much for joining me. It meant the world to me. So much to me. I am absolutely greatful. And I feel so blessed by God, so greatful to him, that I have gotten to know you through the years... and of course we'll still keep in touch.
But of course things won't be the same the next year - I need to face that one fact.
No sleep overs on the deck underneath the stars, making wishes.

Afternoons in Seattle.

Runs through the fountains.

Tea outings.

Mornings before school out front.

Lunches in the courtyard.
Wagon runs through the town.
Long waits for a bus that's 5 minutes late.
Mad dashes through Grocery Outlet.
Chicken, bagettes, and cake in the grass.
Bike rides on the trail.
Walks at sunset.
Worship together.
And I better stop there before I start crying again like a sillly little baby.
Truth is... I'm not scared.
Honestly, I'm not... or I'm in serious denial or something.
I feel like I'm ready to go, ready to take over and I'm sure my favourite youth pastor could say something funny here in a blog like this.
Switzerland - brace yourselves... cause in 5 days, someone's coming over like you've never, ever seen before....

MWAHAHAAHA!


Heheheh, that acutally felt kinda good.