Yes. We listen to the radio all the time.
Right now there is a huge full orchestral arrangement playing of the Back Street Boys... if only you could hear it. I started laughing when it started playing. The trumpets have the melody.
Anyways, right now it is 12:10 and I just go back from Denners. Denners is like a Right Aid with food and such... but it`s smaller.
Anyways, I had my first Swiss shower last night.. and am sad to report that I`m not sure if I can get my straightener to work. Sigh. Yes, I`m supposed to adjust to their culture and change... but is that little detail really essential to my immersion?
Anyways, we air out the house sometimes, just open up windows and let the fresh air flow in. And I absolutely love the Swiss air, it`s sooo refreshing.
Anyways, this morning I went to post my two letters. For outgoing post, there is one mailbox for each road, and it is yellow. So Anita and I walked down there. And then Ruedi (meine Fatter) and I went to the Backeri to get some more fresh bread and croucants. I forget how to spell that. Crousants? But anyways, we get them fresh almost every day which is amazing.. freshly baked! And the butter is still epic-ly creamy.
OH MY GOODNESS!
*runs off and starts dancing*
Michael Buble!!!! He just started playing on the Swiss Radio... that just about made my day. So I just had the pleasure of telling my brother,
"Ich leibe songe!!!!!"
So happy now... oh so happy.
Okay, so anyways. After we went to the Backeri I watched "Hotel Zach und Cody" with my brother... aka, the Suite Life of Zach and Cody. Mwahah.. it was in German and made me laugh quite a bit. The voices and mouthes didn`t line up.. but at least I knew what was going on. Don`t know if any of you have seen that show before. It`s for short folks... so I guess I`m liable to watch it. And then on the radio, Elvis was playing. And this song my mom plays on the piano, the Music Box Dancer.. and that made me miss her but also smile because it was a beautiful arrangement.
Then we ate.
Then I hung out in my room and pretty much did nothing... yeah, I do a lot of that. My brother plays Age of Empires alll the time each morning.
Then, my host mother and I went out to Denners, which I mentioned above. I needed floss and conditioner... so expesive. 5 or so CHF for one thing of floss. And the conditioner was 6 CHF. My hostmother was nice enough to buy them for me.. I don`t have my allowance yet.$
Then, we went to my grosmaters (sp?) house... my host father`s mother. She lives above the family business, Maler Hinter. It`s pretty big. The mother und father are on holiday and so my host mother had to take care of her plants and so forth.
I think we`re going to bicycle to Sarnen later today, not really sure... but life is very relaxed.
Tomarrow I go to Oltern or something like that. All the exchange students in Switzerland are meeting.. something that could never be done with such ease in the US. I`m really excited to talk to everyone and see how they`re doing. I think Jorge is coming with us in our car. Who knows. But it should be grand.
Once again, thank you SO much for the comments, ahhh, you guys actually care about me! Hehe. And Mom, I love the comments and updates and so far, I don`t feel homesick at all and love to hear what you`re doing. I do read everything you send me.... I just don`t always respond. Don`t take it personally please everyone... realize that I really appreciate it, but my time here is limited and I try to just update everyone through a blog. Within a couple hours of my blog, I had 65 views... danke!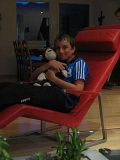 George likes it here...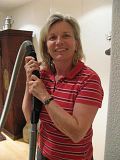 My host mom.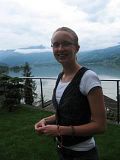 Anita.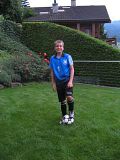 Phillip... he`s obsessed with füssball... he always wears his gear... sometimes even cleats.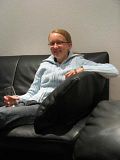 Anita.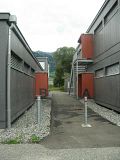 One of the school buildings... it`s sort of spread out into three or four buildings around the town.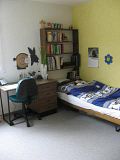 My bedroom is pretty schazzy.
There was a snazzy girl named Kayle who sat in front of me on the 9 hour flight.. sigh, Dutch babies are so cute!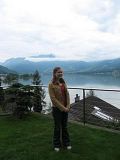 Me... in my new backyard.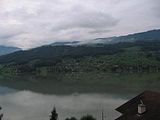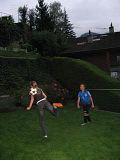 Playing füssball in the backyard.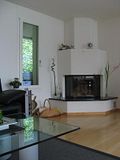 Living room.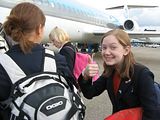 The plane in Amsterdam.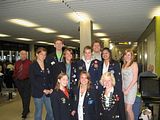 Some of the exchangers... all of to different parts of Swityerland.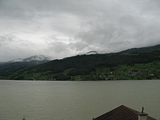 The view from the dining room.